After the Power Game...
THE MAIN CHANCE (Yorkshire TV 1969-1975)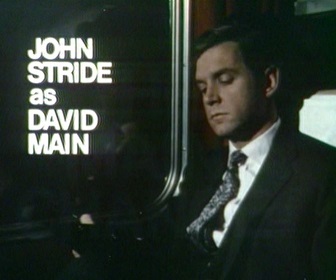 "The Law's a complicated set of tools and we're just mechanics." David Main
Premiering on 18 June 1969, The Main Chance starred John Stride as brilliant young lawyer David Main. Having established a successful practice in London, he returns to his native Leeds to buy into the staid and respectable practice of Henry Castleton (John Wentworth)* and his daughter Margaret (Margaret Ashcroft). Henry describes him as, "Shrewd and energetic..but his manners leave a lot to be desired."
* John Wentworth appeared in The Plane Makers as Pamela Wilder's financial advisor and later as Bill Ryan in the first episode of the third series. Margaret Ashcroft was in the same year as Patrick Wymark at the Old Vic Theatre School, and had appeared with Robin Bailey in ABC's 1963 science fiction serial Dimensions of Fear.
Like GAZETTE the series was created for the new Yorkshire TV franchise, although it wore less Yorkshire-ness on its sleeve, dividing the action between Leeds and London. Edmund Ward teamed up with solicitor John Batt (under the pen name of John Malcolm) to create a series which could explore many of the same themes as The Power Game with a similarly iconoclastic lead character. David Main was played by John Stride, who had starred opposite Judi Dench in Franco Zefferelli's 1960 Romeo and Juliet at the Old Vic. Peter Cotes snapped Stride up to star in the ill-fated Bitter Harvest (1963) but Stride gained more exposure playing Julien Sorel in 1965 BBC adaptation of The Scarlet and the Black. Stride made a renewed impact at the National Theatre under Laurence Olivier, and Ward later described his, "theatrical approach to television..(with)..and unstarlike consideration and co-operation...welding together a cast of actors into a company which produces a level of ensemble playing."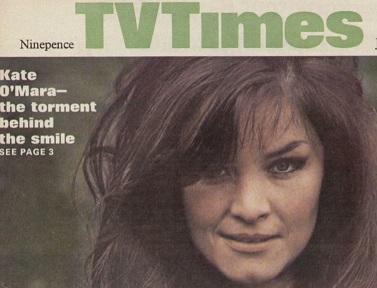 Ironically, although the first six-episode run of The Main Chance won a cover story in the TV Times, it focussed on Kate O'Mara, breaking away from her glamour roles in shows like The Saint as Julia, Main's fragile and neglected wife. The photo feature was more in line with the characters she played in ITC adventure shows, O'Mara posing as a huntress, firing a bow and arrow. Although superficially similar to Pamela Wilder in The Power Game, Julia Main did not share Pamela's determination to remain married and locked Main out of their Chelsea house at the end of the first series. Like John Wilder, David Main also had a long-suffering and indispensible secretary, although Sarah Courtney (Anna Palk) was independently wealthy, working "for love not money." In contrast to Wilder's hero-worshipping aide Don Henderson, Main's assistant was the duplicitous Peter Findon (Philip Bond). A barrister suspended for priming a witness he was forced to retrain as a solicitor. Anothher link with The Plane Makers was John Arnett as Sidney Bulmer, a former Fraud Squad detective now working for Main. Arnett had played Peter Humphreys (the first 'Don Henderson' character) in Too Much to Lose , Edmund Ward's episode introducing John Wilder).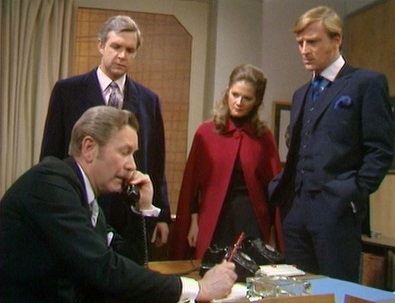 John Arnett (Sidney Bulmer), John Stride (David Main), Anna Palk (Sarah Courtney) and Phillip Bond (Peter Findon)
David Main was the son of a former Army lawyer - a scholarship boy who escaped, " ..faded middle class gentility, where the wallpaper matched the gravy and you always owe the grocer." Each episode explored the contrasts in the law, with Main taking legal aid work out of conscience and commercial work from ambition. Main was a multi-faceted character, fiery and often unfair to his friends and colleagues, but also empathic with the down-trodden. Stride could make a passage of English law sound like one of Shakespeare's sonnets.
Ward's co-creator Malcolm John Batt, used the pen name of John Malcolm to separate his artistic work from his career as solicitor John Batt. As a student, Batt had composed several successful pieces of 'mood music' including Non Stop which was later adopted as the theme music for ITN Evening News from 1955 until the 1980's. Unsurprisingly, Batt also composed the insistent theme tune for the titles showing Main aboard a train pounding through the night between London and Leeds. Batt wrote several episodes of the show, also serving as a script consultant, drawing on his own expertise and that of colleagues in the legal profession. Edmund Ward commented that, "Batt solves problems for each script which would cost hundreds of guineas in real life."
Edmund Ward set out the divisions of the legal profession from the opening episode. The Castleton's are experienced in business and property, but unable to handle a criminal case. Main is brought in to organise the defence of the son of a wealthy businessman (played by Leslie Sands). Peter Findon looks up his old legal clerk to hire the services of a top barrister. The clerk quotes a fee of 1,500 guineas (around 25,000 pounds in 2019). When Findon says that's not bad for an morning's work, the clerk retorts that it's for "a lifetime's experience." (the clerk, incidentally, takes the shillings from the guineas - a cut which Findon calculates as 5% or 150 pounds - around 2,500 pounds in today's money). In a 1973 episode, Ward articulated the relationship between Barristers and Solicitors. "Solicitors are supposed to be the junior branch of the law. Dogsbodies handling sordid details. Standing at the doorway of the Bar mess while their bewigged betters sail by - and then leaning over their shoulders in court while telling them what to say."
Edmund Ward also drew on his own past expertise as a journalist in the construction industry when writing the episode, The Professional (2 July 1969) which introduced the character of Charles Ian Grady (Anthony Bate). Ward described Grady as, " a professional 'wrecker' , an agitator, a man with his own motives, probably political, for fomenting industrial strife." Main is called in during a company takeover to help the owners deal with Grady, a man outside the system who organises unofficial strikes. Ward was obviously fascinated by the ambiguous character, played with persuasive eloquence by Anthony Bate, and would write three part series called Grady in 1970.
When The Main Chance returned for a full 13 episode run in 1970, Main's marriage was at an end. In the first two episodes, Main fought for custody of his children. Julia had married an idealistic school teacher (Bernard Kay) who insisted on taking Main's children out of public school and bringing them to live with Julia in a rough area of London. Kate O'Mara did not return for these episodes, and Stride carried out an emotional one-sided telephone conversation with Julia bringing their relationship to some kind of resolution. The series continued to explore a range of themes - in A Man I Know To Be Innocent by 'John Malcolm' (John Batt) the inexperienced Margaret Castleton persuades her client to make an idealistic stand before a jury, rather than accept a drugs charge at a magistrates court and brings a much heavier sentence down on him. In A Vision For The Future Ward once again draws on his past in construction journalism when Main opposes a local authorities scheme for a modernistic planned community (the sort of brutalist buildings that 50 years later are being demolished). It includes an amusing exchange between Main and architect Peter Gilmore who says that the existing houses were, "put up when employers were building barracks for workspeople. Even when they were built they lacked essential function. Not even what Corbusier called Machines for Living." Main corrects him, "He said 'Une Machin' - it means a thingummyjig - not a machine. It's the most persistently mistranslated quote in the history of architecture." The episode ends with eloquent cynicism. After a gruelling inquiry, Main reflects that months down the line the decision will lie with a Minister, who may come to the office after having an argument with his wife, and if lucky, may even look at report long enough to read the recommendations before making his decision.
Ward drew a significant end to the second series. After a romantic relationship with her boss, Anna Palk's character leaves to marry a Lord. Peter Findon, having qualified as a solicitor, is sacked by Henry Castleton for sharp practice and goes out on his own.
The Main Chance returned for a third series in 1972. Main was still in partnership with the Castleton's but Henry reduced his involvement when he was appointed as a Record (Circuit Judge). Glynn Edwards(Get Carter) joined the cast as ex-policeman Walter Clegg, (Sidney Bulmer having retired). Anna Palk returned, intending to divorce Lord Radchester (John Standing), but Main's love interest in this series was Hilary Nash (Estelle Kohler), who Main would eventually marry. Once again, the series explored a wide range of themes.
For the final series in 1975, there was a mood of change. John Batt's stirring theme was replaced by a more contemporary tune from Anthony Isaac. In the first episode Hilary Main and her son are killed when their car is hit by a drunken lorry driver. Main suspects that the driver's employer will fix the result, so Walter Clegg gets hold of the control samples of the driver's blood. The interference is discovered and Clegg is charged with theft. He only escapes prison due to Main's eloquence at the trial, but Main is struck off as a solicitor. He's forced to sell his London practice to Peter Findon, who characteristically tries to short-change him. Although Main cannot practice as a solicitor or draw up legal documents, he can use his expertise outside the system until Henry Castleton can finally overturn his expulsion. Trying to recover his life, Main lives and works from an apartment overlooking the Thames, aided by Clegg and secretary Inge Belbin (Sharon Maughan) who had once been an au pair for the first Mrs Main before retraining as an executive secretary. Edmund Ward had lived in Sweden in the 1950's and had met his wife Felicity there, so it's perhaps not surprising that Inge was a well-written and competent character (a secretary to rival Miss Lingard).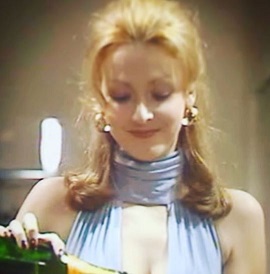 While it soon becomes clear that there is more than a professional attraction between Main and his secretary, he also dallies with influential millionairess Laura Granton (Ingrid Hafner, who had played John Wilder's mistress in The Plane Makers.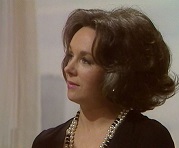 For the final few episodes, Main joins forces with ambitious young solicitor Gary Watson, but eventually upsets the local establishment by helping a local policeman take out a private prosecution for manslaughter against the respected doctor who was treating his wife. The series ends with Inge deciding that the romantic side of her relationship with Main was form of recovery from her failed marriage, and that it is time to return home. At the same time, Laura Granton departs for the Bahamas. Main is left to consider his future.
This was the last series of The Main Chance. John Stride went on to star in Yorkshire TV's Wilde Alliance (1976) and Diamonds (1981). Intriguingly, Margaret Ashcroft has joined the cast of The Brothers, the BBC's road-haulage Plane Makers, in 1974 and continued to appear in this show until its cancellation. Edmund Ward contributed to series such as 1990 and The Professionals. John Batt continued to practice law and in 2001 became part of the defence team for lawyer Sally Clark, jailed for the murder of her baby sons. ( Batt wrote a book, Stolen Innocence about the successful fight to overturn her conviction.)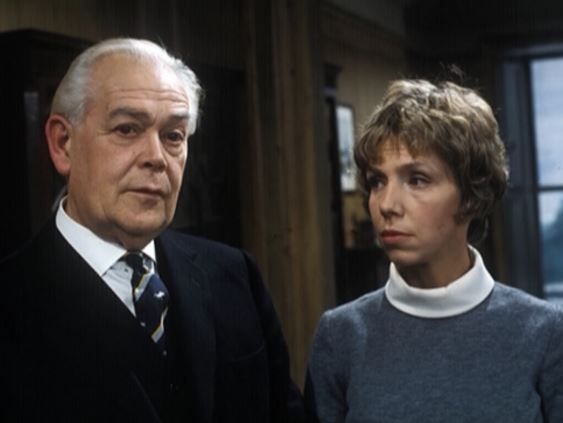 John Wentworth and Margaret Ashcroft as Henry and Margaret Castleton