#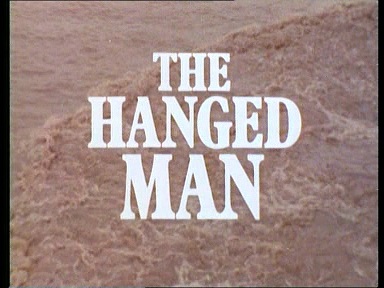 After the Power Game...
THE HANGED MAN (YORKSHIRE TV 1975)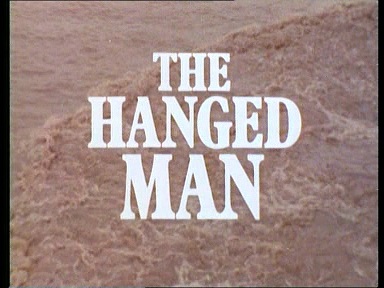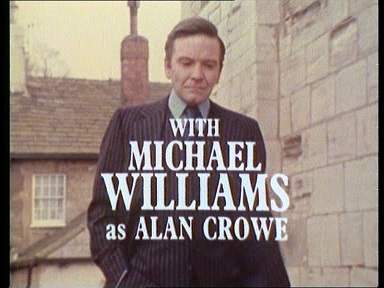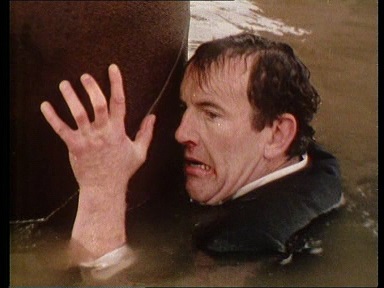 "The only way I can stay alive is to stay dead. Find out who wants to kill me. And why!" Lew Burnett (Colin Blakely)
First broadcast on Saturday 15 February 1975, The Hanged Man starred Colin Blakely as construction company owner Lew Burnett.The title sequence shows him on a site visit, gunning a dump truck across a pier, when the sabotaged vehicle plunges over the edge into the river. From the rivers edge, hitman Quentin (Gary Watson) smiles in satisfaction. Insurance investigator Alan Crowe (Michael Williams) disbelieves the reports of Burnett's death. With good reason. We see Burnett pull himself out of the river. This is the third attempt to kill him and now he decides to stay dead, teaming up with Crowe to search through his past and find the person who hated him enough to order his death.
The Hanged Man was created by Edmund Ward, who had written 'Don't Worry About Me' - the first episode of the The Plane Makers (4 February 1963) which had starred Blakely as Jack Clement, a rule-breaking skilled hand, intent on making as much money as he could for himself and his family. More recently, Ward had created The Challengers (1971) in which Blakely starred as a Labour MP. Once more, The Hanged Man teamed Ward with The Challengers director Marc Miller, both of whom were credited as co-producers.
The series was launched with a cover feature in the TV Times in which Edmund Ward explained how the series had taken 18 months to research and write. Ward's fascination with the construction industry began in 1951 when he worked as a labourer on a contract to build five US air bases in Morocco. "I joined as a security guard, which involved good reflexes and a regulation club or baton. (Where) hard men tore up the earth with giant machines. Got drunk, fought, told me stories. If they'd been turned loose here, they'd have built the M1 in a week." Later on, he became editor of an international architectural magazine, where he learned more about the dirty deals behind the construction industry. Ward also developed a fascination with "the simple statistic of thousands of men who walk out of their front doors and are never seen again." Despite the solid factual background, The Hanged Man was constructed as , "Thriller land. Action. Adventure. Fact and invention based on the genuine excitement of a very real world."
With the support of Yorkshire TV's head of drama, Peter Willes, the show was put together in the style of American series like The Fugitive. It had the strong hook of Burnett on the run, hunting down the truth. It had the motif of the Tarot Card ("hanging but not hanged - his eyes are open - in a state of transition" with each episode named after a relevant card. Unusually for a British series, it also had an explanatory title sequence replaying the sabotaged dumper truck and Burnett's voice over deciding that the only way to stay alive was to stay dead. The series also had a full score written by Alan Tew, a composer of library music whose "Bond Street March" had been adopted as the theme for the comedy series Doctor in the House. Not only was Tew credited in the end titles, his music was also released as a Long Playing record - a rarity in the 1970's, especially for a short-run show. Credited to "Bullet", the music was performed by a group of session musicians including keyboard player Alan Hawkshaw (whose The Night Rider was the theme for the Milk Tray adverts) and Frank Ricotti (The Beiderbecke Affair on percussion.)
Alan Tew's music from The Hanged Man was also released as library music by Themes International in 1976. The BBC repurposed the main theme for the serial segments within The Two Ronnies starring Charley Farley and Piggy Malone. Retitled The Detectives Tew's theme was included on the 1980 BBC Records LP BBC Detective Themes. Tew's music could also be heard in the final series of The Sweeney(1978). However, Tew probably achieved true immortality when the suspense track called 'The Heist' on the original album, or 'The Big One' for Themes International was adopted in America as the theme for the proto-typical semi-reality TV show People's Court (1981-2019). As such, Tew's theme has been re-used many times in film and TV parodies - most recently Family Guy.
Each episode of The Hanged Man took Burnett back to aother stage of his past, giving Ward an opportunity to explore the hidden world of the consturction industry. As Burnett's rival Sam MacGuire (James Grout) rhetorically asks Crowe in one episode, "Do you remember who built Hadrian's wall? Actually built it with his bare hands? It sure as hell wasn't Hadrian. No-one ever remembers the contractor.". In each episode, Burnett was forced to confront the person he had become.
Born in Bangor, Northern Ireland, Colin Blakely was educated at the Sedburgh school in Cumbria, before working in his family's sporting goods shop in Belfast. Blakely made his professional stage debut at the relatively late age of 27, but quickly progressed from the Royal Court to the Royal Shakespeare Company. Making a memorable movie debut as the drunken sailor challenging Albert Finney to a drinking match in Saturday Night and Sunday Morning (1960), Blakely had recently co-starred as Dr Watson in Billy Wilder's 1970 The Private Life of Sherlock Holmes (coincidentally Michael Williams would later play Watson in the BBC's long-running Sherlock Holmes radio series opposite Clive Merrison). Blakely said, "Deep down in me there's a 6 foot 3 blond, and that's often how I play a role." Blakely was uniquely convincing as Burnett, a man who bought his first piece of plant with money earned from working 14 hour days on a two year contract. A man who could analyse a balance sheet and also handle a flick knife.
Alan Crowe was played by Michael Williams, who had also starred in one of Edmund Ward's scripts for the first series of The Plane Makers. The 20 May 1963 episode 'One Of Those Days' had co-starred Wiliam Hartnell (just before taking on the role Dr Who). Williams had studied at RADA and made his stage debut at the Nottingham Playhouse before spending 13 years with the Royal Shakespeare Company. Williams may seem a strange choice to play ex-mercenary Crowe, since many people remember him for his comic roles on stage and with Judi Dench in A Fine Romance (1981-1984). But Williams had been convincing enough as Adolf Eichmann in the Royal Shakespeare Company's 1963 production of Rolf Hochhuth's The Representative to need polioce protection.
Like Blakely and Williams, Gary Watson also starred in the first series of The Plane Makers, although 'The Short Run' (18 March 1963) was not written by Edmund Ward. Among his other roles he co-starred (as Aramis) with Jeremy Brett, Jeremy Young and Brian Blessed in The Three Musketeers(BBC 1966). His most recent role had been Detective Inspector Connor in the BBC's Z Cars. In a reverse of the situation in The Fugitive, South African hitman Crowe is both hunter and hunted, trying to wipe out Burnett and Crowe before they can track down him and his unseen employer.
Wheel of Fortune 15 February 1975 - With journalistic brevity Ward kicks off the story with the standard title sequence showing Burnett's sabotaged dumper truck diving into the water. Burnett survives Quentin's assassination attempt, and teams up with villains Harry Gold (Peter Miles) and Sammy Grey (Brian Croucher) to steal the payroll from one of his own construction sites. When the villains try to double-cross him, Burnett uses gelegnite to hold them at bay. Insurance investigator Crowe suspects Burnett is still alive, but when he starts asking too many questions, Quentin is ordered to out him out of the way. Burnett buys false identity papers although against advice chooses to have them made up in his own name. Crowe also survives Quentin's murder attempt and follows up the news reports of the payroll robbery. Sammy Grey warns Crowe about Burnett, "He was giving me 15 years and 2 stone. And he had a bad leg. But he still worried me." Crowe tracks Burnett down to Skipton where the mechanic who fixed the brakes on Burnett's dumper truck is silenced by Quentin. Crowe convinces Burnett that he is not the assassin. "I'm sick of pimping between insurance money, respectability and thieves." It's as if Inspector Gerard or Jack McGee caught up with their quarry in the first episode and decided to team up with them. Together they agree to go back into Burnett's past.
Tower of Destruction 22 February 1975. Burnett takes Crowe to a power station construction site. This is where - 18 months previously - the plane that crashed killing Burnett's wife took off from. Ward returns to Grady territory when Burnett seeks help from Larsen (Frank Wylie) an industrial agitator just fired from the job after a rigged accident. Julian Glover plays Joe Denver, a helicopter pilot whose nerve was broken by Burnett. Crowe romances Druscilla Lowndes (Jenny Hanley) a sometime girlfriend of Denver's to find out more about the secret helicopter flights he's arranging with site security manager Pilgrim (William Lucas). While stalking Crowe at Rievaulx Abbey, Quentin spots Burnett through the telescopic sight of his rifle and alerts his unseen paymaster to the fact that Burnett is alive and coming after them both. As Burnett and Crowe break into Pilgrim's secret compound on the airfield we hear the first use of Alan Tew's 'The Heist' (aka The Big One*). Frank Wylie had appeared with Colin Blakely in Tyrone Guthrie's 1968 National Theatre production of Volpone .
Knave of Coins 7 March 1975. Directed by Tony Wharmby. Burnett travels to Locarno, Switzerland where accountant Peter Kroger (William Russell) is holding eighty thousand pounds of Burnett's money. "You want an African contract, you give the Minister fifty thousand in exchange for his signature in the right place. The first thing he does is pay ten thousand of it into an account here in your name so that you're part of the graft. Then if he goes, you go carrying the can. Eight contracts. Eighty thousand pounds." But Kroger has invested Burnett's money in a plot to take over an oil producing state in the Middle East. Meanwhile, a group of mercenaries led by Erickson (Michael Coles) are wanting to collect fees owed to them by Kroger. Erickson recognises Crowe. "The last time I saw le petit Corbeau he was using a big machine gun with one hand and spraying it with a hosepipe in the other to keep it cool."
Chariot of Earth 14 March 1975. Burnett and Crowe travel to the Scottish Highlands. Charlie Galbraith (Alan MacNaughtan) was Burnett's partner for nine years. His dream was to revive the Scottish fishing village where he was born. He ploughed a million pounds into the village. Burnett guaranteed three loans in exchange for an option to buy 20% of the land. When Charlie wanted a fourth loan, the terms weren't good enough. "Ideals are fine but profit's better." The day after Burnett turned him down, a sniper tried to take Burnett out but missed. Now Galbraith is under pressure to sell his land to the American oil interests developing a new industry in Scotland. With Burnett dead, all the land options reverted to Galbraith. Burnett's resurrection comes at a very inconvenient time. But was it Galbraith who tried to kill Burnett? Galbraith's wife Louisa (Barbara Shelley) has her own reasons to hate -as does the bailiff, MacKinnon (Jack Watson). The background of the growing oil production industry reminds us of just how much time has passed since the show was made. A character predicts that the UK will become self-sufficient in oil by 1985 and that is pretty much on target with when Britain became a net exporter of crude oil. (With the dwindling of North Sea production, Britain became a net importer in 2005, although remains at present a net exporter of refined oil products). This episode also introduces two of Crowe's criminal associates - Turtle (John F. Landrey) and Razor Eddie Malone (Gareth Hunt). They're effectively a retread of Harry Gold and Sammy Grey from the first episode, although played for more comic effect.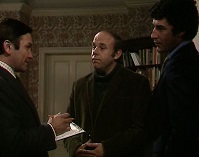 The Bridge Maker 14 March 1975. Directed by Tony Wharmby. An attempt to draw Quentin out into the open ends with Burnett getting shot. While Burnett is recovering, Turtle discovers that Quentin is taking a plane flight out of Heathrow. Crowe and Burnett buy tickets for the same flight hoping Quentin will lead them to his employer. But it's a trap. Military jets forces the plane to land in Communist Eastern Europe where Burnett is arrested. Frengel (James Maxwell) wants proof that Minister Josef Milojek (Ray Smith) took bribes from him. Burnett's only hope is to resist torture long enough for Crowe to blackmail Milojek into helping get him out. An odd, Mission: Impossible type episode, The Bridge Maker comes across as something that would have been more at home in ITC's Man In A Suitcase (1967) which Ward also wrote for . David Daker guest stars as a people smuggler, while Susan Brown delivers a strong, conflicted performance as Milojek's secretary/lover.
Grail and Platter 21 March 1975. Directed by Tony Wharmby. Six months on from the original attempt on his life and eight days after the jailbreak, Burnett is in Essen, Germany, still suffering from internal bleeding. In a voiceover he calls it, "Steeltown. The German 50 shift system. Never night, never day either. Just sweat and money. This is a slum for two-legged cattle." Eight years ago, Burnett was on a job on the Rhone estuary where the main contractors had a big penalty clause over him. They hired a thug called Hans Dieter (Frederick Jaeger) to frighten off skilled labour. When Dieter tried to blind him with a blowtorch, Burnett crushed his hand with a pick handle. In the here and now, Dieter is terrorising Yugoslavian immigrant labourers led by Lazlo (Tony Jay). "trouble makers had to be discouraged. Particularly immigrant labour, which could not be expected to understand economic cycles and knew only that it was the hungry tip of an iceberg of well over a million unemployed." Burnett needs Dieter to make contact with Mafia accountant Milton Webber (Michael J Shannon). Burnett needs Webber's network to pull together a full analysis of his old company, Burnett Construction International. Only then will he find the key to his unknown enemy. Burnett takes refuge in the private clinic of Dr Jane Cowley (Naomi Chance) while waiting for Webber to put the report together. But meanwhile, Webber's associate Shapiro (Al Mancini) is lining up both Dieter and Quentin to finish Burnett off.
Laws of Fortune 28 March 1975. Burnett and Crowe are closer to the identity of Quentin's paymaster. But still need two things: the accounting brain of Captain Jane Ashley (Jan Francis) and a draft balance sheet locked in the safe of accountant James Prendergast (Laurence Payne). Trevor Bowen (A Family At War) guest stars as speculator Michael Preston. While continuing as an actor (Edge of Darkness, Judge John Deed) he also had a parallel career as scriptwriter T.R. Bowen (Lovejoy, the Joan Hickson Miss Marple and the Jeremy Brett Sherlock Holmes)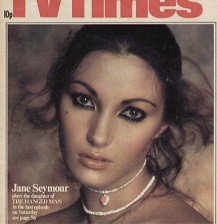 Ring of Return 5 April 1975. The final episode was heralded with a TV Times cover of Jane (Live And Let Die) Seymour playing Lew Burnett's daughter, Laura. The final episode centred on those closest to Burnett. His stepson Tony Hammond (Keith Varnier) and rival Sam McGuire (James Grout) who was eager to buy Burnett Construction. Sir Charles Hammond (Richard Bebb) - Tony's father tells McGuire, "19 years ago I was cuckolded by Burnett, who then took her away and lived happily ever after." And Laura is brought home from her Swiss Finishing School, accompanied by private bodyguard Max Gunther (George Mikell). Laura proves to be a chip off the old granite block as she visits a bridge contract and accuses the site manager of padding the wage bill and cutting costs on safety equipment. But Burnett knows the only way he can find his hidden adversary is for Crowe to sell him out.This episode includes a flashback to the late Maggie Burnett played by Anne Morrish (formerly Dr Jo Hardy in the BBC forensic series The Expert). In a visit to Rivaulx Abbey just before her fatal plane trip, she tries to remind Burnett of their honeymoon when he came to marvel at the stone laid by generations of craftsmen, "No slide rules. No power tools. Just joy and skill." Burnett tells her he still builds things but she corrects him. "Now it's just the next deal." She loved him, but hated what he was becoming. Richard Bebb had appeared in two Plane Makers episodes - Don't Stick You Head Out and Only A Few Millions but his rich voice will be familiar to followers of Poirot as he provided many of the newsreel voiceovers in episodes likeMurder On The LInks. Bebb had been the second voice, opposite Richard Burton, in the BBC's 1954 radio production of Under Milk Wood.
The Hanged Man remains an interesting one-off. Made with the then-standard mix of studio-based video recording and location filming, the series would possibly have won some extra pace if it had all been made on film. However, the studio scenes are driven forward with strong central performances by Blakely and Williams. Unfortunately, some of the stunt work in fight scenes is unconvincing. The series is also slightly hampered by the standard practice of the time of only hiring guest actors for one or two episodes. This means that as the central mystery of Burnett's antagonist comes closer to his immediate friends and family, characters who appeared in the first episode are only referred to in dialogue in the final episode - reducing the list of suspects. However, the central concept and the detailed construction industry background are enough to retain the viewer's interest.
Although the central mystery was resolved, Edmund Ward left the possibility of a further series open with Burnett musing, "What else is left to crawl out of the woodwork?" But a second series never materialised. The week after The Hanged Man ended, Yorkshire TV kicked off the fourth series of Edmund Ward's The Main Chance. Some years later Edmund Ward sold ATV on Turtle's Progress a comedy spin-off starring John F Landrey as Turtle, Michael Attwell as Razor Eddie and James Grout as a police superintendant dogging their footsteps. Michael Williams even put in a guest appearance as a totally unconnected character. Making its debut with seven episodes in April 1979, it was overshadowed by the similarly themed Minder which made its debut in October 1979, getting an immediate boost as one of the first programmes shown after the long ITV Strike.
Edmund Ward published a novelisation of The Hanged Man in 1976, with a paperback edition released by Futura in 1977. Ward's novel generally flashed out some of the background detail to the story (such as how to enter Switzerland illegally, or how to pick a padlock). Ward chose to omit the events of The Bridge Maker with Burnett suffering his internal injuries as a result of his fight with MacKinnon and a gunfight with Quentin, rather than torture in Eastern Europe. In a nod to the owners of Yorkshire Television, Ward notes that Laura Burnett was staying at Claridges, "Gunther had parked the car, still muddy from site visits, in Brooks Mews, behind Claridge's, where the bowels of a grand hotel, its tradesmens entrance, its discrete garbage disposal are on view to the television executives of Trident as they drive past to their offices down the narrow street and the fourth-floor decisions determine what seventeen million people in Britain will watch."