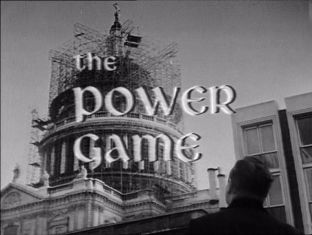 Barbara Murray in THE ESCAPE OF R.D.7
21st November 1961- 19th December 1961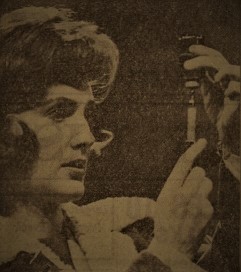 Virologist Anna Hastings (Barbara Murray) discovers a virus which can wipe out rats. But when humans are accidentally infected she is ordered to stop all work. Instead, she goes on the run, determined to complete her research.
In 1961, Barbara Murray was offered the lead in a five part serial The Escape of R.D.7. The serial was produced and directed by James Omerod, who had previously worked for ITV as a director on shows like Knight Errant Limited and Police Surgeon but chose to take the project to the BBC as a freelance. The original idea is credited to ITV script writer James Parish. However, Thomas Clarke actually wrote the serial.Clarke had recently written for the Granada Biggles series (the one which reputedly drove Tony Warren to climb on top of a cupboard until he was allowed to write the pilot for Coronation Street) and would go on to write three Wednesday Play's for BBC1 . He is thought to be separate from the Tom Clarke who wrote for Play for Today, and Muck and Brass, although their credits overlap so eerily that it would not be a surprise to learn they are the same man.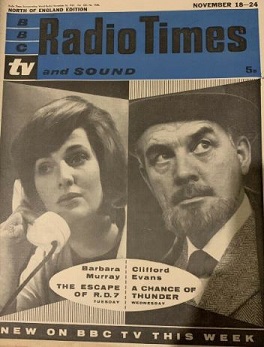 Five years before The Power Game, Barbara Murray and Clifford Evans share the front page of the Radio Times
The Escape of R.D.7 was a kind of inner-space Quatermass with Barbara in the lead as dedicated virologist Dr Anna Hastings. While working on a medical research project , she discovers R.D.7, which can wipe out rats. The prospect of not just eliminating pests, but also the disease they carry spurs her on to continue her research under the official radar. But she forgets to lock the door of her lab. While cleaning up, lab assistant Peter Warner (Roger Croucher**) is bitten by a rat and contaminated with R.D.7. Anna's superiors order her to stop her work on the project. Instead she drugs and kidnaps Croucher, taking him and her equipment to a boathouse in the desolate Essex marshes.
Warner begins to panic as he realises the virus could be deadly, but Anna needs to observe its effect on humans. To convince him that she is searching for a cure, she injects herself with R.D.7. Meanwhile, her managers call in the police to investigate Warner's disappearance. When Anna becomes too ill to continue working, Warner panics and escapes. As the symptoms appear to spread into the village surrounding the research station, Anna is forced to seek the support of duplicitous pharmaceutical financier Patrice Constantine (Patrick Cargill).
The Escape of R.D.7 is frustrating because so little survives. TAM ratings show it was in the Top Ten watched TV shows (although higher in the South than in the North and North East, where Tony Warren's Coronation Street was already crowding other fare down the ratings). There was no novelisation or film spin-off and the original episodes are thought to be lost. A contemporary review said it was full of "slowly blinking, slightly stagey, highly cryptic characters." So it's difficult to assess what's left of the serial. The lead character appears to be a classic tragic protagonist. She has the best intentions, but pride stops her from following the proper channels and reporting the discovery of R.D.7. Even when Warner is accidentally infected, she still thinks she can cover all risks by herself, and takes a course that leads deeper into disaster. According to pre-publicity, the lead character was originally imagined as a man, but when Thomas Clarke began to visit research labs he found so many "young, glamorous women" that he changed the sex of the lead. Certainly, Anna is shown to be determined and decisive in the early episodes when she kidnaps her co-worker, but it would have been interesting to see how Barbara Murray carried the part through to the end.
What is undeniable is that The Escape of R.D.7 appears to prefigure episodes of the BBC's later Doomwatch series which regulary tapped public mistrust about the application of science- particularly Tomorrow The Rat, where Penelope Lee plays a similarly single-minded scientist who fails to foresee every eventuality.
*James Omerod would go on to produce Justice (1971) starring Margaret Lockwood, South Riding(1974) starring Dorothy Tutin, and the army series Spearhead(1979). He would also direct the Power Game episode The Heart Market (which dealt with Caswell Bligh's attempt to secure a heart transplant) and journalist James Cameron's play about his own heart surgery The Pump (which starred Kenneth More, Ann Firbank and Angela Douglas).
**Roger Croucher would go on to play Venieri in The Wednesday Play, 'Malatesta' (1965) starring Patrick Wymark, and played several parts in The Spread of the Eagle for Peter Dews. He later directed Malcolm McDowell in Entertaining Mr Sloan at the Royal Court, and then became Principal of LAMDA and later president of the American Academy of Dramatic Arts. In 2014 he contributed by skype to the audio commentary for 'Sucker Bait' in the BFI 'Out of The Unknown' DVD.